Amy Lytle, Bemidji State University, named Overall Champion of the Great Northwoods Sales Warm-Up
Posted: November 17th, 2008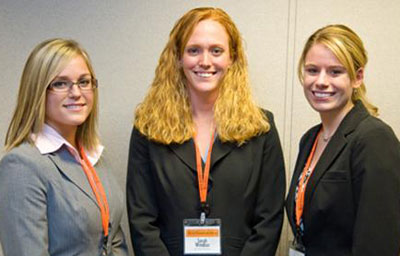 The 2008 Great Northwoods Sales Warm-Up top three salespersons were named on Saturday, November 15. From left to right: Second Runner-Up Katie Wenzel, Minnesota State University-Mankato; First Runner-Up Sarah Windlan, Ball State University; Overall Champion Amy Lytle, Bemidji State University
---
The University of Wisconsin-Eau Claire Department of Management and Marketing held its second Great Northwoods Sales Warm-Up, November 13-15 on the UW-Eau Claire campus. Forty-eight marketing students from nine schools in five states competed for trophies and top dollar awards.
Amy Lytle a student from Bemidji State University, Bemidji, Min, was named Overall Champion. Lytle was awarded a trophy and $1,500 cash prize sponsored by SuperValu. Sarah Windlan, from Ball State University, Muncie, Ind, was first runner-up and received a trophy and $1,000 cash prize sponsored by Huntsinger Companies. Katie Wenzel from Minnesota State University-Mankato, Mankato, Min, was second runner-up and received a trophy and $750 cash prize sponsored by Northwestern Mutual Financial Network-Bohannon Group.
The highest scoring individual from each participating school, excluding the top overall winners, was named School Champion. Each individual received a trophy and $150 cash prize sponsored by Aflac and Wells Fargo Financial.
Honors were presented to the following students:
Aurora University: Steve Salazar
Bemidji State University: Leo Clark III
Ball State University: Michael Vandy
College of St. Catherine: Lauren Dunlap
Minnesota State University - Mankato: Ashley Gainor
St. Cloud State University: Crystal Landherr
University of Northern Iowa: Katie Noonan
UW-Eau Claire: Jason Wilson
UW-Stout: Anthony Wind
Next year's UW-Eau Claire Great Northwood's Sales Warm-Up will be held November 12-14, 2009. For more information, visit our website atwww.uwec.edu/cob/sales/index.htm.
---
2008 Great Northwoods Sales Warm-Up
COACHES AND STUDENT PARTICIPANTS
Aurora University
Shawn Green, faculty coach
Steve Salazar
Alex Kline-Weeden
Bemidji State University
David Heilig, faculty coach
David Smith, faculty coach
Casey Allar
Leo Clark III
Amy Lytle
Ball State University
Ramon Avila, faculty coach
Collin Meyers
Joel Sheets
Matthew Valena
Michael Vandy
Sarah Windlan
College of St. Catherine
Debi Stewart, faculty coach
Lauren Dunlap
Bria Hilgers
Minnesota State University-Mankato
John Kuzma, faculty coach
Matthew Fick
Ashley Gainor
Jeffrey Johnson
Alissa Kangas
Brandon Krisher
Brittany Mackley
Katie Wenzel
Joseph Worwa
St. Cloud State University
David Thomsen, faculty coach
Heather Anderson
Luke Fox
Crystal Landherr
Brittany Noonan
Jared Nord
Matthew Spicer
University of Northern Iowa
Steve Corbin, faculty coach
Kellie Koschmeder
Katie Noonan
Kevin Petersen
Joshua Wieland
University of Wisconsin-Eau Claire
LaNette Flunker, faculty coach
Ryan Bucki
Andrew Cooan
Hjordi Danielson
Anthony Janicki
Travis King
Patrick Lemieux
Claire McGahan
Crystal Navarrete
Joseph Pichotta
Alex Skorczewski
Jason Wilson
Tony Wirz
University of Wisconsin-Stout
Bill Cobian, faculty coach
Michael Borens
Erik Hall
Danielle Manthey
Bailey Rice
David Robbins
Anthony Wind
---
SPONSORS
Major Sponsors
Cintas
Hormel Foods
Other Sponsors
Aflac
Enterprise Rent-A-Car
Huebsch Services
Huntsinger Companies
Larson Companies Hotel Group
Liberty Mutual
Leinenkugel Brewing Co.
M&I Bank
Northwestern Mutual Financial Network-Bohannon Group
Sun Life Financial
SuperValu
Wells Fargo Financial
---
VOLUNTEERS
Aflac
Chris Dooley
Adam Gardner
Patty Obermueller
Mike Pederson
Jason Sczepaniak
Cintas
Alisa Carmona
Matt Flaig
Erica Kubatzki
Dave Marta
Brad Newton
Jay Nygren
Angie Tonies
Neil Weisensel
Hormel Foods
Ryan Altergott
Tom Guse
Brett Harris
Brian Molhusen
Kurt Mueller
Lisa Hobscheidt
Patty Riedl
Alex Sales
Enterprise Rent-A-Car
Becky Krekelberg
Jennifer Mead
Amy Pfau
Jacob Stingl
Huebsch Services
Tim Benjamin
Chuck Kent
Ken Snow
Jim Vaudreiul
Huntsinger Companies
Ed Schaefer
Leinenkugel Brewing Co.
Bill Febry
Liberty Mutual
Melaney Barba
Adam Boston
Holly Blake
Kathy Clark
Dylan Hibbard
Debbie Koury
Jim Linhart
Erica Peterson
Anthony Sartori
LSS Data Systems
John Kyriagis
M&I Bank
Benjamin Franko
Paul Kulig
Katie Sternweis
Mid-State Technical College
Jon Steele
Nielsen Company
Lynn Dean
NML Financial Network-Bohannon Group
Ryan Brockhaus
Mike Brownlow
Mike Dahlke
Kyle Fossen
Todd Grabner
Adam McGregor
Tara Putz
Standard Register
Garret Ullom
Sun Life Financial
Michelle Heath
Joanne Lynch
Annie Saukko
SuperValu
Brian Audette
Bruce Bostwick
Colleen Lapel
Christine Walsh
Wells Fargo Financial
Joanna Bird
Shannan Hughes
Todd Klusmann
Aaron Loken
Tyler Tomesh
Kayla Pederson
Raya Prusinski
UW-Eau Claire
Faculty and Staff
Joe Bonner
Kristina Bourne
Jan Connolly
Dawna Drum
Bob Erffmeyer
Galen Flunker
LaNette Flunker
Jessica Gardner
Justin Gardner
Bill Hoepner
Glenda Hoggatt
Ray Hughes
Gretchen Hutterli
Jerry Kollross
Bonnie Krahn
Scott Lester
Abe Nahm
Julie Pennington
Nancy Rasmussen
Scott Swanson
Bob Sutton
Chuck Tomkovick
Jeri Weiser
Rama Yelkur
Students
Kevin Avery
Justin Bechtel
Kari Bechtel
Tristin Bentzler
Matthew Brady
Allison Campbell
Peter Forcey
Billy Hancock
Sarah Hansen
Angela Hill
Jaimie Hoeschen
Justin Hubbard
Tracy Johnson
Dana Kastenson
Nate Kinney
Cory Knutson
Scott Krautkramer
Sophia Landry
Heather Maul
Travis Messerschmidt
Stephen Moegenburg
Ian Oberg
Ashley Olson
Rob Rice
Anna Saugen
Dana Schachtner
Adam Schnell
Jennifer Severin
Rebekah Streit
Lindsay Taylor
Adam Wirkus
View More News
2019
UW-Whitewater student wins 2019 Sales Warm-Up
2018
Kansas State student wins 2018 Sales Warm-Up
2017
UT-Dallas student wins 2017 Sales Warm-Up
2016
Hailey Dudley from FSU named Top Sales Person
2015
UWEC Derek Baker named Warm-Up champ
2014
Baylor student is 2014 Warm-Up champ; Elon, UW-Eau Claire in Top 3
2013
Baylor, Kansas State, and North Dakota State take top honors at 2013 Sales Warm-Up
Warm-Up students and sponsors share information using QR code technology
Seventh annual UW-Eau Claire Great Northwoods Sales Warm-Up to be held Oct. 31
2012
UW-Eau Claire and Bowling Green take top honors at 2012 Warm-Up
Sixth annual UW-Eau Claire Great Northwoods Sales Warm-Up to be held Nov. 8-10
2011
UW-La Crosse, Baylor and Illinois State U take top honors at 2011 Warm-Up
Fifth UW-Eau Claire Great Northwoods Sales Warm-Up to be held Nov. 10-13, 2011
2010
UW-Stout Sweeps the 2010 Great Northwoods Sales Warm-Up
Students from Twelve Universities to Compete In Great Northwoods Sales Warm-Up
Great Northwoods Sales Warm-Up Photo Wins National Award
2009
College of Business receives Gold, Bronze Awards at CASE V Conference
2009 Great Northwoods Sales Warm-Up the Biggest Event Yet
Students from Fourteen Universities to Compete In Great Northwoods Sales Warm-Up
C. Willi Myles is Featured Performer at 2009 Great Northwoods Sales Warm-Up Enterprise Rent-A-Car Comedy Club
2008
Amy Lytle, Bemidji State University, named Overall Champion of the Great Northwoods Sales Warm-Up
Students from Nine Midwestern Universities to Compete In Great Northwoods Sales Warm-Up
Tommy Dare, Hypnotist is Featured Performer at Great Northwoods Sales Warm-Up Enterprise Rent-A-Car Comedy Club
2007
UW-Eau Claire Comes Out On Top at Sales Competition
First Annual Sales Competition Set for November, 49 Participants Registered