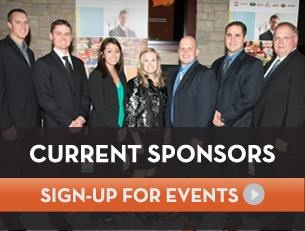 Sponsor Registration


School Registration

Continental Breakfast Buffet


Meeting for Buyers and Judges Arriving Friday

Continental Breakfast Buffet


Round Two Role Plays



Lodging
A block of rooms have been exclusively reserved for participants and sponsors at the Lismore Hotel in Eau Claire, WI. Reservations are under UW-Eau Claire Great Northwoods Sales Warm-Up. Please make your reservation by September 28. The Lismore Hotel is located in downtown Eau Claire (333 Gibson Street, Eau Claire, WI).
Call the hotel directly to make your room reservation at 715-835-8888. Tell them you are part of the Sales Warm-Up.
Food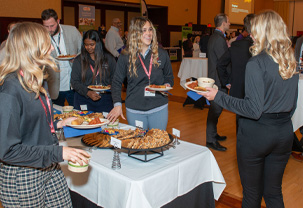 Complimentary meals include opening reception Thursday night; continental breakfast, lunch, and dinner Friday and Saturday. Please email us with your dietary questions or concerns and number attending.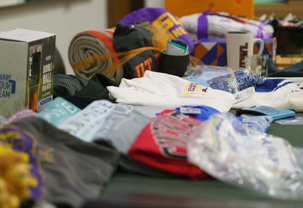 As part of our Warm-Up Trivia Contest (which occurs while our three finalists are preparing for their last sales call), we give away door prizes donated from sponsors and participating schools. Please bring a couple items from your company that would be appropriate, e.g., water bottles, mugs, umbrellas, whatever you think the students might enjoy taking home with them. Bring them to the opening reception and we'll handle it from there.


Each judge will only be viewing one of the two sales scenarios. Your feedback to each of our participating students makes this a very special event. Please be in your assigned rooms 10 minutes before your session begins.
This brief video outlines some important points. We will also have a short judges meeting after the opening reception to review some items and answer questions.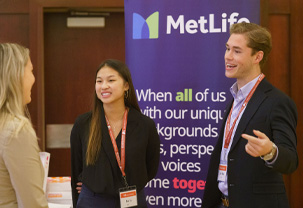 Shipping
Please ship Career Fair materials to:
UW-Eau Claire
Attention: Kevin Meinholz
Schneider 215 - MBA Office
105 Garfield Avenue
Eau Claire, WI 54701
715.836.5330
Set-Up
Please have your table set up prior to 6 pm on Thursday for recognition at the Northwoods Opener Reception.
Each sponsor will be supplied with a 6-foot table covered and skirted in white, wireless internet connections, and electrical outlets.
THURSDAY
4:00-6:00 pm
Set up displays for Career Fair
Davies Center: Ojibwe Ballroom (330)
Student helpers will be at the back circle of Davies to assist you with unloading your vehicle and transporting your materials to the 3rd Floor Ojibwe Ballroom.
5:00-6:30 pm
Registration
Davies Center: Outside Ojibwe Ballroom (330)
6:30-7:30 pm
Welcome Reception
Davies Center: Ojibwe Ballroom (330)
FRIDAY
9:00 am-4:30 pm
Career Fair
Davies Center: Ojibwe Ballroom (330)
4:30-5:30 pm
Tear down displays
Davies Center: Ojibwe Ballroom (330)
*Please do not tear down your displays until after 4:30 pm.
If you need additional supplies or have questions regarding the Career Fair, please contact Kevin Meinholz at or 715.836.5330.