The Great Northwoods Sales Warm-Up is held in Eau Claire, Wisconsin on the University of Wisconsin-Eau Claire campus and at The Lismore Hotel in Downtown Eau Claire, WI. Eau Claire is 90 miles from the Minneapolis - St. Paul (MSP) Airport.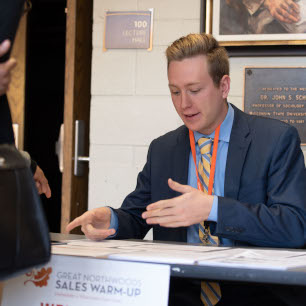 Davies Center Ojibwe Room (330)
Open Thursday and Friday.
This is the place to go for name badges, programs, schedules, shirts, and other competition materials.

On Friday, parking is available in the HSS Parking Lot located on Water Street. A shuttle is available to bring you from the parking lot to events in Schneider Hall and the Davies Center. The shuttle runs continuously.
Parking passes are not needed for the Thursday Opener Reception and Saturday events. However, you will need them for Friday. Passes will be distributed at the Thursday Opener Reception. They will also be available from our van driver. Please read parking signs carefully and remember that we cannot be responsible for tickets issued during the event.

Thursday Opener Reception
Business casual. Team photos will be taken so students may wish to wear school shirts.
Friday and Saturday
Business professional.
Friday Night Fun Night
Jeans and school shirts or whatever you like to relax in.
Saturday Night Awards Banquet
Business professional.

The University of Wisconsin-Eau Claire regularly produces photographs of people in its publications, in promotional and marketing materials, and on its website in order to promote UW-Eau Claire to the campus community and general public. A photographer will be taking photos at this event. Please let us know if you have any questions or concerns.
Check back in early December to view photos from the competition.