2023 SALES WARM-UP RESULTS
Overall Champion: Pierre Nixo, University of Central Florida
First Runner-Up: Annabelle Pierson, University of Wyoming
First Runner-Up Hunter Hartner, Kansas State University
---
PRESS RELEASES
Baylor student is 2014 Warm-Up champ; Elon, UW-Eau Claire in Top 3
Posted: October 28th, 2014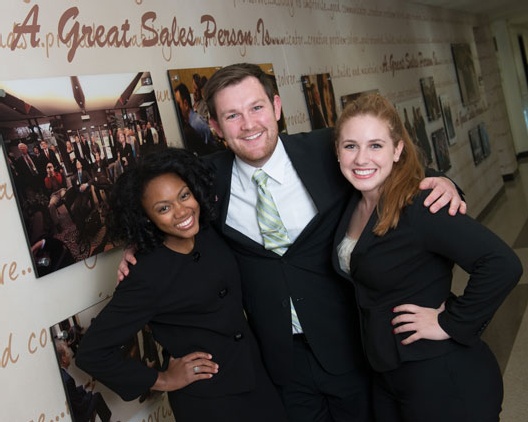 The 2014 Warm-Up top three salespersons l-r: Shakori Fletcher, Elon University (1st Runner-Up); Scott Mundt, UW-Eau Claire (2nd Runner-Up); Erin Robason, Baylor University (Overall Champion)
---
College students from 20 schools located throughout the United States competed for cash prizes and the title of top salesperson at the eighth University of Wisconsin–Eau Claire Great NorthwoodsSales Warm-Up, October 23-25, 2014. The event was held on the UW-Eau Claire campus.
Congratulations to all students who participated in the competition. » View student competitors
Erin Robason, Baylor University, a junior professional selling and management major from Frisco, Texas, was named 2014 Overall Champion. She was awarded a trophy, a $1,000 custom suit from Tom James,and a $1,500 cash award. Robason was coached by Dr. Andrea Dixon.
Shakori Fletcher, Elon University, a junior broadcast and new media major and professional sales and statistics minor from Gayson, GA, was first runner-up. She received a trophy and $1,000 cash award. Fletcherwas coached by Dr. Erin Adamson Gillespie.
Scott Mundt, UW-Eau Claire, a senior marketing major from Eau Claire, WI, was named second runner-up. He received a trophy and $750 cash prize. Mundt was coached by Jerry Kollross.
The highest scoring individual from each participating school, excluding the top overall winners, was named "school champion." The following school champions received a trophy and a $150 cash prize:
Aurora University, Aurora, IL:

LaNeysha Campbell

Ball State University, Muncie, IN: Brittany Gardner

Baylor University, Waco, TX:

Alex Ingold
Bowling Green State, Bowling Green, OH:

Jane Swartz

Elon University, Elon, NC:

Jacob Light

Illinois State, Normal, IL:

Tim Cerniglia

Kansas State, Manhattan, KS:

Danielle Lickteig

Louisiana State, Baton Rouge, LA:

Blake Wesley

North Dakota State, Fargo, ND:

Tanya Stillwell

The Florida State, Tallahassee, FL:

Kristen Clark

The U of Texas-Dallas, Dallas, TX:

Mayra Rodriguez

The University of Toledo, Toledo, OH:

Jerry Palermo

U of Central Oklahoma, Edmond, OK:

Kevin VonHolten

U of Cincinnati, Cincinnati, OH:

Madison Watts

University of Dayton, Dayton, OH: Brett Johns
UW-Eau Claire, Eau Claire, WI: Jared Janquish
UW-La Crosse, La Crosse, WI: Sam Riebau
UW-Parkside, Kenosha, WI: Cierra Miller
UW-Stout, Menomonie, WI: Cierra Steiner
UW-Whitewater, Whitewater, WI: Kiersten Boos
The Warm-Up wishes to thank our sponsors for supporting this year's events. We also wish to acknowledge the contributions of more than 160 corporate, university and community volunteers who gave their time and talents to make this event a success. See box below.
The 2015 Great Northwoods Sales Warm-Up will be held October 22-24. For more information, contact Dr. Robert Erffmeyer, director, UW-Eau Claire Great Northwoods Sales Warm-Up at erffmerc@uwec.edu or visit the competition's website at www.uwecsaleswarmup.com.
2014 Sponsors and Volunteers
Sponsors
Platinum
Hormel Foods:

Nick Adams, Dustin Barinka, Alix Braun, Blake Flores, Brett Harris, Ben Kuen, Matt Lewis, Kurt Mueller, Scott Nemec, Steven Rothenberg, Amy Sheehan

SuperValu:

Brian Audette, Mallorie Brugh, Lori Goodwin, Amanda Hietalati, Diane Murphy, Christine Taylor, Leah Westendorf, Paula Wirtz, Sue Zastrow
Gold
Cintas:

Toby Atkinson, Dave Fretz, Kelsey Kargas, Carla Kasas, Brad Newton, John Noetzle, Shelby Ray, Sarah Stubbs, Michelle Thoren

Graybar: Linda Bergstedt,

Diane Cady, Rich Malm, Erik Olsen, Ellen Rebne, Joe Risso, Rich Schroeder

Liberty Mutual
The Sherwin-Williams Company: Cathy Catino, Bryan Chester, Greg Freel, Mark Henderson, Sarah Smith, Mary Wolf, Steve Wojcik, Derek Young
TEKsystems: Troy Anderson, Emma Carlson, Ryan Hopkins, Lauren Peters, Kelly Sacharski
Tom James Company: Bo Anderson, Rebecca Garsys, Brian Hopkins, Kay Kachersoki, Rachael Lundeen, Rob Ringeisen, Nate Rissi
Uline: Nicole Anderson, Michael Ehrhart
Verizon: Hugh Brennan, Thomas Cerutti, Ron Rodriguez
Silver
Introductory
Other Sponsors
Bob Erffmeyer and Gretchen Hutterli
Larson Companies
Michael Schulze
Volunteers
UW-Eau Claire faculty/staff: Carol Azab, Joe Bonner, Lauren Brewer, Sydney Chinchanachokchai, Gabi Eissa, Bob Erffmeyer, Bill Hoepner, Gretchen Hutterli, Bonnie Krahn, Kristy Lauver, Kevin Meinholz, David Nesvacil, Ann Rupnow, Scott Swanson, Tim Vaughan, Jeri Weiser, Tiffany Weiss
UW-Eau Claire graduate students: Richard Cable, Kassem Charafeddine, Michaela Gatzow, Megan Hanson, Kennedy Reed
Student IT support: Adam Stotmeister
Mid-State Technical College: Jon Steele
Community member: Pat Thontirawong
UW-Eau Claire undergraduate students: Desalegn Ajack, Brandi Bawek, Matt Becker, Tomas Benzo, Tim Bortner, Scott Carlson, Kyle Carr, Ethan Dahlberg, Gunner DeFlorian, Josh Eggert, Andrew Flemming, Heidi Giacalone, Alex Giuliani, Kelsey Keiser, Danny Klaggos, Taylor Kollross, Tony Lipari, Sean MacDougall, Jacob Meeks, Brock Offerdahl, Koral Pischer, Carly Rahn, Josepth Schneiner, Jim Schroeter, Danielle Siegle, Derek Strong, Jared Sweeney, Liz Verkuilen, Abby Yurish, Mart Zastoupilr
View More News
2020
Illinois State University wins 2020 Sales Warm-Up
2019
UW-Whitewater student wins 2019 Sales Warm-Up
2018
Kansas State student wins 2018 Sales Warm-Up
2017
UT-Dallas student wins 2017 Sales Warm-Up
2016
Hailey Dudley from FSU named Top Sales Person
2015
UWEC Derek Baker named Warm-Up champ
2014
Baylor student is 2014 Warm-Up champ; Elon, UW-Eau Claire in Top 3
2013
Baylor, Kansas State, and North Dakota State take top honors at 2013 Sales Warm-Up
Warm-Up students and sponsors share information using QR code technology
Seventh annual UW-Eau Claire Great Northwoods Sales Warm-Up to be held Oct. 31
2012
UW-Eau Claire and Bowling Green take top honors at 2012 Warm-Up
Sixth annual UW-Eau Claire Great Northwoods Sales Warm-Up to be held Nov. 8-10
2011
UW-La Crosse, Baylor and Illinois State U take top honors at 2011 Warm-Up
Fifth UW-Eau Claire Great Northwoods Sales Warm-Up to be held Nov. 10-13, 2011
2010
UW-Stout Sweeps the 2010 Great Northwoods Sales Warm-Up
Students from Twelve Universities to Compete In Great Northwoods Sales Warm-Up
Great Northwoods Sales Warm-Up Photo Wins National Award
2009
College of Business receives Gold, Bronze Awards at CASE V Conference
2009 Great Northwoods Sales Warm-Up the Biggest Event Yet
Students from Fourteen Universities to Compete In Great Northwoods Sales Warm-Up
C. Willi Myles is Featured Performer at 2009 Great Northwoods Sales Warm-Up Enterprise Rent-A-Car Comedy Club
2008
Amy Lytle, Bemidji State University, named Overall Champion of the Great Northwoods Sales Warm-Up
Students from Nine Midwestern Universities to Compete In Great Northwoods Sales Warm-Up
Tommy Dare, Hypnotist is Featured Performer at Great Northwoods Sales Warm-Up Enterprise Rent-A-Car Comedy Club
2007
UW-Eau Claire Comes Out On Top at Sales Competition
First Annual Sales Competition Set for November, 49 Participants Registered