2023 SALES WARM-UP RESULTS
Overall Champion: Pierre Nixo, University of Central Florida
First Runner-Up: Annabelle Pierson, University of Wyoming
First Runner-Up Hunter Hartner, Kansas State University
---
PRESS RELEASES
UWEC Derek Baker named Warm-Up champ
Posted: October 26th, 2015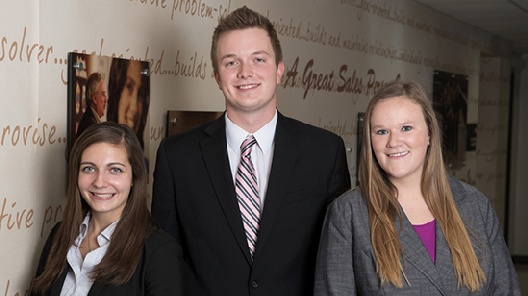 Pictured l to r: Kristen Sutcliffe, University of Cincinnati; Derek Baker, University of Wisconsin-Eau Claire; Jessica Miller, Bowling Green State University
---
College students from 22 schools located throughout the United States competed for cash prizes and the title of top salesperson at the 9th Annual University of Wisconsin–Eau Claire Great Northwoods Sales Warm-Up, October 22-24, 2015. The event was held on the UW-Eau Claire campus.
Congratulations to all students who participated in the competition. » View student competitors
Derek Baker, a UW-Eau Claire senior marketing student from Nekoosa, WI, was named the Overall Champion. He was presented with a trophy, a check for $1,500, and a custom suit from Tom James valued at $1,000.Baker was coached by Jerry Kollross.
The title of First Runner-Up went to Kristen Sutcliffe, a marketing major from the University of Cincinnati. She received a trophy and a check for $1,000. Sutcliffe was coached by John Cox and Dan Peterson.
Second Runner-Up was Jessica Miller, a sales and services marketing major from Bowling Green State University. She received a trophy and a check for $750. Miller was coached by Christine Seiler.
The highest scoring individual from each participating school, excluding the top overall winners, was named "school champion." The following school champions received a trophy and a $150 cash prize:
Aurora University: Sean Bergan
Ball State University: Danielle Guitard
Baylor University: Lauren DePizzol
Bowling Green State University: Angela Lucarelli
Elon University: Sharin Gerstenberger
Florida State University: Cecilia Breland
Kansas State University: Daniel Burger
Louisiana State University: Andrew Seeger
North Dakota State University: Colin Hertz
Ohio University: David Baxter
Plymouth State University: Cameron Colby
St. Cloud State University: Zach Van Pelt
The University of Texas - Dallas: Kathryn McCord
University of Central Oklahoma: Barrett Heasley
University of Cincinnati: Madison Greenwell
University of Dayton: Amy Skoba
UW-Eau Claire: Sean MacDougall
UW-La Crosse: Kayla Peterson
UW-Parkside: Jason Blumenfeld
UW-Stout: Vincent Escudero
UW-Whitewater: Glynis Albue
Winona State University: Garrett Lieffring.
The Warm-Up wishes to thank our sponsors for supporting this year's events. We also wish to acknowledge the contributions of the corporate, university and community volunteers who gave their time and talents to make this event a success. See list below.
The 10th Great Northwoods Sales Warm-Up will be held October 20-22, 2016. For more information, contact Dr. Robert Erffmeyer, director, UW-Eau Claire Great Northwoods Sales Warm-Up or visit the competition's website at www.uwecsaleswarmup.com.
---
2015 Sponsors and Volunteers
Platinum Sponsors
Hormel Foods: Dustin Barinka, Tim Bortner, Hjordi Danielson, Antoine Destin, Mike Goodenough, Brett Harris, Ashley Krautkramer, Ben Kuen, Matt Lewis, Kurt Mueller, Megan Nelson, Kristen Roers, Amy Sheehan
SUPERVALU: Evan Almelien, Brian Audette, Gwen Gierke, Lori Goodwin, Lindsey Hynes, John Marciniak, Shaun Netsch, Damon Roberson, Matthew Saffert, Stefanie Starsky, William Weber
Gold Sponsors
Cintas: Kelsey Brempell, Alisa Carmona, Josh Eggart, Jake Heinitz, Toby Jacobson, Jeff Mahmud, Brad Newton, Dan Perry, Sarah Stubbs
Cottinghan & Butler: Matt Becker, Tony Noel
Graybar: Linda Bergstedt, Diane Cady, John Kahne, Kimberly Morris-Woodfork, Jon Novotny, Erik Olsen, JP Pouliot
Impact Networking: Joannah Craig, Alex Kusters, Rick Ray, Cynthia Skurski
Laird Plastics: Peter Edelstein, Jerry Howze, Mark Steele, John Szot, Ron Uber, Stephanie Weltzien
Sherwin-Williams Company: Greg Freel, Mark Henderson, Sarah Smith, Derek Young
TEKsystems: Olivia Aschenbrenner, Ryan Hopkins, Lauren Peters, Eric Quiring, Ian Rockers, Megan Skinner, Elic You
Tom James Company: Nick Badilla, Brian Hopkins, Kay Kacheroski, Rob Ringeisen
Uline: Nicole Anderson, Brian Dryjanski, Mark Lehman
Silver Sponsors
ADP: Gigi Alfonso, Allyson Kiefer
Altria Group: Jordan Andert, Nicole Brigl, Marty Lezama, Erik Luoma
Echo Global Logistics: Joe Amici, Erin Brown, Joe DeVroy, Rachael Gavri, Scott Mulholland, Vanessa Perez, Ryan Short, Alicia Siemplenski, Jared Snow
Ferguson: Kyle Carr, Alyssa Jones
HILTI: Rob Davison, Jim Hansinger, Stacie King, Philip Roussey
Inland: Paige Conforti, Evan Hoffman, Scott May, Danielle Spahn, Garet Wetzel
Lennox International: Hanley Booth, Mary Clark, Nick O'Hagan, Nancy Terry, Steve Wood
Liberty Mutual Insurance: Jun Anderson, Melanie Barba, Jerry Foy, Mindy Holt, Matthew Steiner, Anjali Sud, Jacquitta Watson
Mohawk Industries: Beth Blankenship, Cheri Nourse, Joe Tacka, Kristen Womack
Paycom: Jason Dallis, Patrick Holder, Koral Pischer
Renaissance Learning: Tara Bonilla, Mariette Booth, Heidi Okreglicki, Diane Wiskerchen
Reynolds & Reynolds: Brandi Bawek, Mathew Devenport, Katie Furbee, Clay Luttrell
Thomson Reuters: Angie Harder, Brooke Meinen, Mark Sullivan
Victaulic: Doris Brooks, Casey Schmidt
Introductory Sponsors
CDW: Jared Bazzell, Melanie Parker, Ryan Schroeder
DTS: Nick Fry, Brant Marple, Tanya O'Neil, Mark Stokes
Greenheck: Jay Baumann, Beth Brinkmann, Floyd Carlson, Dawn Genrich, Tim Kilgore, Tony Rossi, Matt Spink
HP: Rashelle Chappelle, Dalencia Hervey, Sean Ness, Richard Shutt
Johnson & Johnson: Jeffrey Cady, Brandon Graves, Nathaniel Held, Christopher Roman
SPC Commerce: Mackenzie Davis, Michael Movall, Jack Pendergast, Adam Schmidt, Rosa Werthwein
Staples Advantage: Ken Boris, Dawn Krysiak, Kristin Mayo, Dick Muenich
Other Sponsors
Bob Erffmeyer and Gretchen Hutterli; Larson Companies; Michael Schulze
Volunteers
UW-Eau Claire
Faculty and staff: Carol Azab, Sydney Chinchanachokchai, Josh Engle, Bob Erffmeyer, Blair Foley, Mary Girnau, Bill Hoepner, Gretchen Hutterli, Kelsey Kopp, Bonnie Krahn, Kristy Lauver, Kevin Meinholz, David Nesvacil, Kim O'Kelly, Shane Opatz, Scott Swanson, Tim Vaughan, Jeri Weiser
Graduate students: Kassem Charafeddine, Bryan Hart, Sean O'Connor, Michelle Stanek, Jessica Teliin, Emily Toninato
Undergraduate students: Stephanie Barkley, Nate Bodart, Brooke Boegli, Ryan Born, Luke Buschman, Scott Carlson, Logan Clemment, Gunner DeFlorian, Dustin Dolgner, Jessica Eckard, Luke Elfering, Hannah Erffmeyer, Chad Flakne, Edwin Gan, Heidi Giacalone, Kyle Hoffman, Justin Ignavski, Jared Jaquish, Cullen Johnson, Jake Johnson, Justin Johnson, Danny Klagos, Justin Kohlbeck, Alex Krasne, Kelsey Leaf, Brittany LeBahn, Elexa Lukes, Hunter Marshall, John Metzinger, Goliath Oboyo, Bailey Payette, Austyn Pigeon,Brigit Schliesman, Joey Schreiner, Austin Schwinefus, Danielle Siegle, Jared Sweeney, Liz Verkuilen, Abby Yurish
Mid-State Technical College: Jon Steele
Community: Jim Hamilton, III
View More News
2020
Illinois State University wins 2020 Sales Warm-Up
2019
UW-Whitewater student wins 2019 Sales Warm-Up
2018
Kansas State student wins 2018 Sales Warm-Up
2017
UT-Dallas student wins 2017 Sales Warm-Up
2016
Hailey Dudley from FSU named Top Sales Person
2015
UWEC Derek Baker named Warm-Up champ
2014
Baylor student is 2014 Warm-Up champ; Elon, UW-Eau Claire in Top 3
2013
Baylor, Kansas State, and North Dakota State take top honors at 2013 Sales Warm-Up
Warm-Up students and sponsors share information using QR code technology
Seventh annual UW-Eau Claire Great Northwoods Sales Warm-Up to be held Oct. 31
2012
UW-Eau Claire and Bowling Green take top honors at 2012 Warm-Up
Sixth annual UW-Eau Claire Great Northwoods Sales Warm-Up to be held Nov. 8-10
2011
UW-La Crosse, Baylor and Illinois State U take top honors at 2011 Warm-Up
Fifth UW-Eau Claire Great Northwoods Sales Warm-Up to be held Nov. 10-13, 2011
2010
UW-Stout Sweeps the 2010 Great Northwoods Sales Warm-Up
Students from Twelve Universities to Compete In Great Northwoods Sales Warm-Up
Great Northwoods Sales Warm-Up Photo Wins National Award
2009
College of Business receives Gold, Bronze Awards at CASE V Conference
2009 Great Northwoods Sales Warm-Up the Biggest Event Yet
Students from Fourteen Universities to Compete In Great Northwoods Sales Warm-Up
C. Willi Myles is Featured Performer at 2009 Great Northwoods Sales Warm-Up Enterprise Rent-A-Car Comedy Club
2008
Amy Lytle, Bemidji State University, named Overall Champion of the Great Northwoods Sales Warm-Up
Students from Nine Midwestern Universities to Compete In Great Northwoods Sales Warm-Up
Tommy Dare, Hypnotist is Featured Performer at Great Northwoods Sales Warm-Up Enterprise Rent-A-Car Comedy Club
2007
UW-Eau Claire Comes Out On Top at Sales Competition
First Annual Sales Competition Set for November, 49 Participants Registered