event calendar
Registration


Welcome to the Northwoods Opener Reception

Breakfast


Round One Role Plays

Breakfast


Round Two Role Plays


cost
Because we have secured sponsorships from a number of organizations, UW-Eau Claire will underwrite food, lodging, and travel (stipend based on distance) for faculty advisers and student competitors. Student registration is $200.
Non-participating students/additional coaches are welcome and can also attend for a registration fee of $200.
travel/lodging/food
Each school will receive a stipend based on mileage to help cover transportation costs.
LODGING
A block of rooms have been exclusively reserved for participants at the Lismore Hotel in Eau Claire, WI. Information on Room Reservations will be forth coming. Do not make individual room reservations at this time.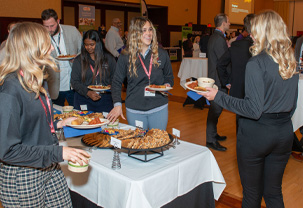 FOOD
Complimentary meals include opening reception Thursday night; continental breakfast, lunch, and dinner Friday and Saturday. Please email us with your dietary questions or concerns and number attending.
warm-up trivia giveaways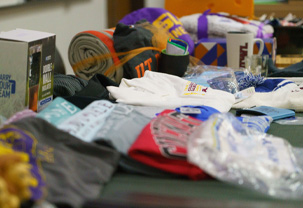 As part of our Warm-Up Trivia Contest (which occurs while our three finalists are preparing for their last sales call), we give away door prizes donated from sponsors and participating schools. Please bring a couple items from your company that would be appropriate, e.g., water bottles, mugs, umbrellas, whatever you think the students might enjoy taking home with them. Bring them to the opening reception and we'll handle it from there.
copies
Copies can be made for a charge at the Davies Center Printing Services located in Schofield Hall Room 18. The walk-up counter is open Thursday until 6:00 pm and Friday from 7:30 am - 4 pm. It is closed on Saturday.
other things to do
The Water Street Historic District, located along the Chippewa River directly across from UW-Eau Claire, is a popular destination for college students. The district, which developed around a steamboat landing in the 1850s, is now home to an assortment of retail and service shops, restaurants, and bars. It is one of the main centers of night life in Eau Claire.
Mall of America is located in Bloomington, MN, just 15 minutes from downtown Minneapolis and St. Paul. Learn about the history and behind-the-scenes business and marketing aspects that go into maintaining the nation's largest shopping mall and entertainment center. Presentations can be customized to meet the needs of your class curriculum. The Hiawatha light-rail line offers fast, frequent service from the Lindbergh and Humphrey airports' terminals to Mall of America. Hiawatha light-rail trains leave every 7.5 minutes during rush hours and every 10-15 minutes at other times. Travel time is 12 minutes.
Leinie Lodge is located in Chippewa Falls, WI about 20 minutes from Eau Claire. Founded in 1867, the Jacob Leinenkugel Brewing Company has been brewing craft beer for more than 145 years. Tour the brew house to see how beer is brewed. Learn about the Leinenkugel family history. Tours are always free and include complimentary samples of their award-winning beers. Reservations are suggested.